Terra-BerryDAC3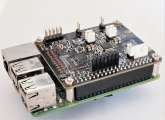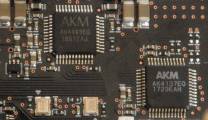 Small High quality RaspberryPi Audio DAC.

Feature
Raspberry Pi HAT compatible, GPIO I2S connection
AKM AK4493 DAC PCM:up to 768KH/32bitz, DSD up to 11.2MHz
Two low jitter Crystal oscillator for MCLK 45.158400MHz/49.152000MHz
Re-clocking and up sampling by AKM AK4137 SRC with onboard MCLK osillator
Onboard I2S DoP decoder by AK4137
Automatic MCLK selection by LRCLK frequency
Low noise High PSSR LDO AKM AK1110 for DAC analog power
Low-Noise Positive and Negative Output Integrated Charge Pump Plus LDO TI LM27762 for OPA1692
Low current noise, excellent linearity Metal Film (Thin Film) Chip Resistors ERA-2.
DC coupling output buffer AMP , Low noise、Low distortion SoundPlus. Audio OP-amp TI OPA1692
Balance / Unbalance output
DAC - AMP connection / separation Terminal
Independent DAC power input connector
Combo384 support
RaspberryPi GPIO serial port control.

Specification
Item
Terra-BerryDAC3
Main parts
DAC: AK4493EQ
SRC: AK4137EQ
OP-AMP:OPA1692
I2S input
PCM ~768KHz, DSD(I2S DoP) ~11.2MHz
SRC output(DAC input)
PCM :705.6KHz/32bit or 768KHz/32bit
DSD(DoP):DSD11.2MHz

Input
RaspberryPi
Combo384
Output
Unbalance , Balance
Power supply
+5V
Power consumption
TBDmA
Size
65x56mm(RaspberryPi HAT compatible)
Description of Connectors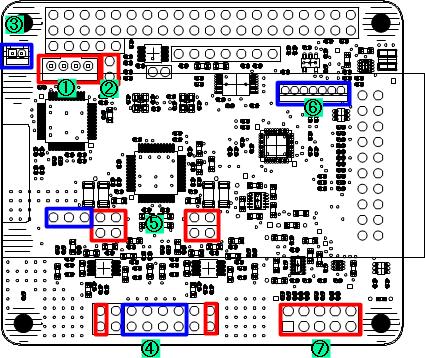 External power input

This terminal can supply power to DAC and RP individually.

Terminal description

1
2
3
4
RPi
+5V
RPi
GND
DAC
GND
DAC
+5V

Connector : JST B4B-PH-KS

DAC-RaspberryPi power supply connection terminal

When supplying DAC power from the GPIO pin of RaspberryPi, short this pins. (Default)

When connecting separate power supplies from the external power connector to the DAC and RaspberryPi You must leave this terminal open.

Terminal description

| | |
| --- | --- |
| 1 | RaspberryPi +5V |
| 2 | DAC +5V |

Connector : MIL 2pin

LCD power

This connector can supply 5V power to LCDs for RaspberryPi. This connector is connected to the 5V terminal of RaspberryPi GPIO.

Notice: The connector is not mounted, so you should solder the connector yourself.

Terminal description
Connector : JST B2B-ZH

Audio signal output

Terminal description

| | | | | | | | |
| --- | --- | --- | --- | --- | --- | --- | --- |
| [A] | | [B] | [B] | [B] | [B] | | [A] |
| GND | (GND) | R- | GND | GND | L- | (GND) | GND |
| R+ | (GND) | R+ | GND | GND | L+ | (GND) | L+ |

[A] Unbalance terminal
[B] Balance terminal
Connector : MIL 8pin

Notice: Balance terminal is not mounted. If you want to use you need to solder it.
DAC output terminal

This is for outputting a signal from the DAC output terminal. You can connect your original amplifier instead of the onboard amplifier.

You can use a line transformer instead of an amplifier.

Terminal description

Power

R-ch


DAC R+
OUT
DAC R-
OUT
AMP R+
IN
AMP R-
IN

L-ch


DAC L-
OUT
DAC L+
OUT
AMP L-
IN
AMP L+
IN

Connector : MIL 3pin, 4pin, 4pin

Notice: Power terminal is not mounted. If you want to use you need to solder it.
GPIO connector

This connector is connected to GPIO of Raspberrypi.

It is assumed that a small LCD is connected via an operation button or I2C.

Terminal description

| 1 | 2 | 3 | 4 | 5 | 6 | 7 |
| --- | --- | --- | --- | --- | --- | --- |
| +3.3V | SCL1 | SDA1 | GPIO5 | GPIO6 | GND | GPIO12 |

Connector : JST B7B-ZH

Notice: The connector is not mounted, so you should solder the connector yourself.
Operation panel terminal

SW1:SRC operation mode setting pin

OFF:Automatic setting mode(Default)
ON:The SRC operating mode follows the SW2 setting.

SW2:Switch the SRC output manually.

OFF:Output in PCM regardless of the input format.
ON:Output in DSD regardless of the input format.

LED

LED1:DAC mode (SRC output mode) Auto=OFF、DAC mode manual=Light on
LED2:DAC mode PCM =OFF, DAC mode DSD=Light on

Terminal description

| 2 | 4 | 6 | 8 | 10 |
| --- | --- | --- | --- | --- |
| RSV | GND | GND | LED2+ | LED1+ |
| RSV | SW2 | SW1 | LED2- | LED1- |
| 1 | 3 | 5 | 7 | 9 |

Connector : MIL 10pin

SRC output format

I2S input
Output mode
(DAC input mode)
Auto setting
(SW1=OFF)
PCM output
(SW1=ON/SW2=OFF)
DSD output
(SW1=ON/SW2=ON)
PCM 32KHz
PCM 768KHz
PCM 768KHz
OFF
PCM 44.1KHz
PCM 705.6KHz
PCM 705.6KHz
DSD 5.6MHz
PCM 48KHz
PCM 768KHz
PCM 768KHz
DSD 6.1MHz
PCM 88.2KHz
PCM 705.6KHz
PCM 705.6KHz
DSD 5.6MHz
PCM 96KHz
PCM 768KHz
PCM 768KHz
DSD 6.1MHz
PCM 192KHz
PCM 768KHz
PCM 768Hz
DSD 12.2MHz
PCM 384KHz
PCM 768KHz
PCM 768KHz
DSD 12.2MHz
DSD 2.8MHz
(DoP 176.4KHz)
DSD 11.2MHz
N.A.
DSD 11.2MHz
DSD 5.6MHz
(DoP 352.8KHz)
DSD 11.2MHz
N.A.
DSD 11.2MHz
DXD 352.8KHz
N.A.
PCM 352.8KHz
N.A.

This spec depend on AK4137.

System

* Combo384 connecter is not included.

Network players

Application
RaspberryPi model
Raspberry Pi B+
Raspberry Pi 2 B
Raspberry Pi 3 B
volumio-2
Unconfirmed
PCM:Up to192KHz
DSD:2.8MHz
PCM:Up to192KHz
DSD:2.8MHz
lightMPD-v1.0.2
PCM:Up to192KHz
DSD:2.8MHz
PCM:Up to192KHz
DSD:2.8MHz
--
RuneAudio 0.3
PCM:Up to 192KHz
DSD:2.8MHz
Unconfirmed
Unconfirmed
RuneAudio 0.4
Unconfirmed
Unconfirmed
PCM:Up to192KHz
DSD:2.8MHz
piCorePlayer 2.05
PCM:Up to192KHz
Unconfirmed
Unconfirmed
modeaudio
Release: 2.7
Unconfirmed
PCM:Up to192KHz
DSD:2.8MHz
Unconfirmed
modeaudio
Release: 3.1 2016-12-05
Advanced kernel
Uunconfirmed
PCM:Up to384KHz
DSD:5.6MHz
PCM:Up to384KHz
DSD:5.6MHz
symphonic-mpd
Version: 0.4.1
Uunconfirmed
Uunconfirmed
PCM:Up to352KHz
DSD:5.6MHz

*Pop noise will occur when DSD start play/stop, skip.

RCA pin jack adaptor 1

RCA pin jack adaptor 2